[Avionics Magazine 01-04-2017] The Civil Aviation Authority of Israel, with the help of third party Air Navigation Service Provider (ANSP) Hughes Aerospace, has deployed the nation's first Required Navigation Performance Authorization Required (RNP AR) at its busiest international airport, Tel Aviv's Ben Gurion (LLBG). Along with reducing the noise and the environmental impact of aircraft approaches on surrounding communities, the new approach will help keep aircraft flying into Ben Gurion safe from rocket attacks that previously suspended international flying to Israel.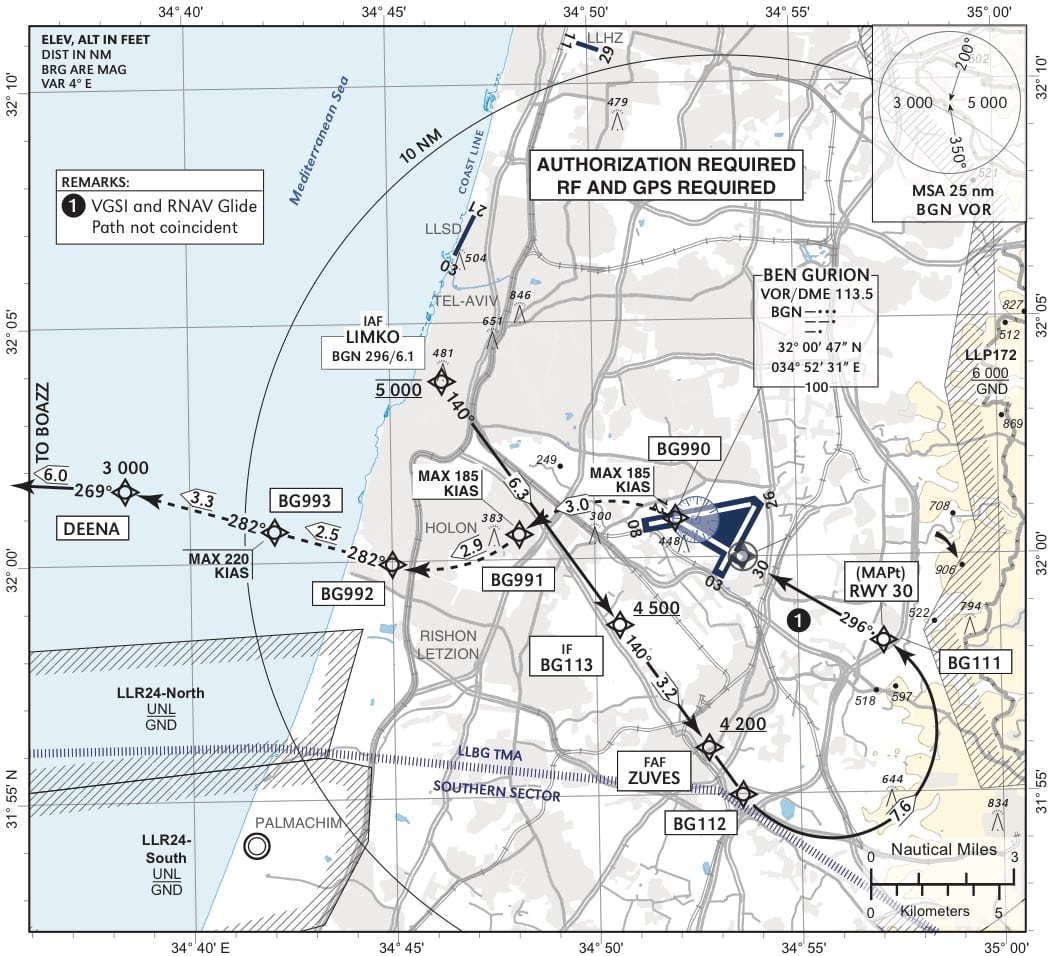 Ben Gurion International Airport's new RNP AR procedure featured in the ICAO AIP. Photo: ICAO.
The new RNP AR approach has been deployed for Ben Gurion's Runway 30. RNP AR is an advanced Performance Based Navigation (PBN) approach procedure that requires prior authorization from a civil aviation authority. It enables an aircraft to fly a predetermined path between waypoints by placing an aircraft's airport approach on a curved, precise path where the descent and positioning is constantly augmented by satellite-based navigation signals. Although Israel has other less advanced PBN procedures in place, the latest deployment is its first RNP AR procedure.
In other countries, RNP AR and other types of PBN procedures have been deployed at airports primarily to compensate for increases in air traffic volumes, reduce noise and environmental impact on communities located near airports and reduce fuel burn for aircraft. The use of PBN also allows operators to take advantage of the advanced navigation systems capabilities featured on newer airframes. At Ben Gurion, all of the above were goals for the deployment, with the added need of keeping aircraft flying into the airport within Israeli airspace and out of harm's way.
Ben Gurion is surrounded by active air force bases, and the city of Modi'in sits in the path of one of the airport's main runways, which can create challenges. "This is an environmental issue, but also creates limitations in times of conflict in which the 'Iron Dome' system wants to protect the city," Libby Bahat, head of the aerial infrastructure department for the civil aviation authority of Israel, told Avionics. "This procedure is the only one that can totally avoid the airspace over the city, allowing the Iron Dome to remain active, and maintaining both protection and safety of civilians on the ground, and in the air."
In 2014, several major European and U.S. carriers temporarily stopped flying to Israeli airports after debris from an intercepted rocket fell near Ben Gurion. The Iron Dome system Bahat noted is a mobile air defense system Israel uses to intercept and destroy short-range rockets designated for populated areas.
Bahat said the new procedure will reduce about 3 track miles flown into the airport from each approach.
"It will also significantly reduce noise to the city of Modi'in, thus perhaps being one of the most overall quiet procedures to LLBG — taking into account the numbers of affected inhabitants," he said. "In times of conflict this could be the only approach that could be available for LLBG when RWY30 is in use — as it is the only one that does not fly over Modi'in city."
According to Bahat, the biggest users of the airport are Israeli carriers such as El Al and international carriers such as Turkish Airlines and Lufthansa. While the new procedure has been designed and published in the International Civil Aviation Organization's (ICAO) Aeronautical Information Publication (AIP), Bahat says Israeli carriers are starting fleet renewals and will be ready to use it within the next 1 to 2 years.
Chris Baur, CEO of Hughes Aerospace, said that the procedure was validated in a Boeing 737 simulator and that El Al Airlines also completed a flight validation for it. Baur, who is also an experienced commercial airline and military pilot, said carriers flying to Ben Gurion historically have had trouble maintaining stabilized approaches to RWY30 because of the trajectory-based maneuvering required of pilots to remain stabilized to have a stabilized path to the runway.
"It's a challenging runway to land on because you have to fly a downwind, and then the winds can be quite strong sometimes coming off the Mediterranean Sea. We extensively used radius to fix legs to maneuver the aircraft and keep it within Israeli airspace on the new approach," said Baur.
From an avionics equipment perspective, noted Baur, most of the U.S. carriers that fly there could use the new procedure immediately, since most of the major U.S.-based airlines are RNP-certified and most of the aircraft that would land there would be RNP-capable aircraft.
While Israel's civil aviation authority has not officially committed to more RNP AR deployments, Bahat said it could be useful for an upcoming new airport currently being built. The Timna region's Eilat airport, which is named after Israeli astronaut Ilan Ramon and his fighter-pilot son, Assaf, is expected to open next year.
"Again, it is a complex, tight airspace, with terrain and Iron Dome issues," said Bahat. "RNP AR might solve many issues there. Due to issues that arose in previous conflicts, GLS [Ground-Based Landing System] might assist GPS jamming issues in LLBG, especially in times of conflict."
http://www.aviationtoday.com/av/air-traffic-management/Israel-Deploys-First-RNP-AR-at-Ben-Gurion_89327.html